Our debt recovery philosophy is:
"Those who owe should pay, not those who are owed … and 100% of nothing = nothing!!"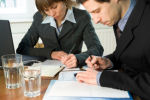 SGS are a specialist commercial debt collection agency based in St. Albans.
We offer our clients a bespoke, discreet and professional service tailored to meet their specific debt collection requirements.
At SGS we believe in business with a human face and pride ourselves on offering a personalised service to suit all our clients, large or small.
Our aim is to achieve maximum satisfaction for our clients at the least cost to them.
Accordingly we have developed 'Chargeback', which is a pre-legal 'No Success, No Fee' system and offers our clients the likelihood of collection of debt due to them without incurring collection fees in the process.
Our statistics show that there is a possibility of Free Debt Recovery plus the collection of late payment interest charges as per the "Late Payment of Commercial Debts (Interest) Act 1998"
In addition to 'Chargeback', we offer a comprehensive range of business information services and reports in both the UK and Overseas - including international company 'status and risk' searches.
Our Managing Director is a member of the Chartered Institute of Credit Management (CICM). SGS also carries Professional Indemnity Insurance.
Website Design & Maintenance by Brockley